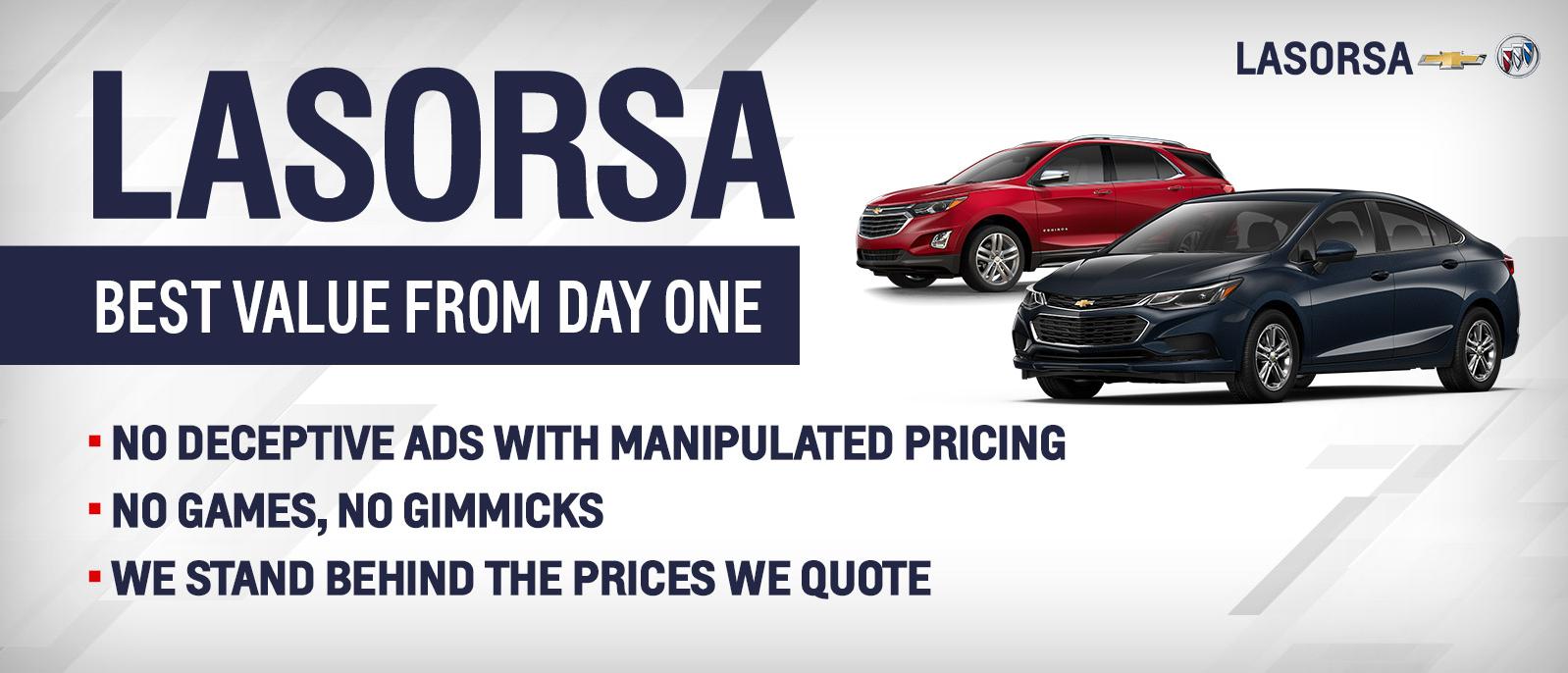 Buying a vehicle is a significant investment, and one that will generally affect you and your family on a daily basis. With more vehicle options than ever before and desirable technologies increasingly becoming available, deciding which vehicle to buy is a difficult task. Making the decision is made even more difficult by the fact that buyers are typically worried about dealerships being dishonest with them and offering them an unfair price. At LaSorsa Chevrolet Buick, we know what an important purchase buying a vehicle is for you and your family, and we know that it takes a significant amount of your hard- earned money. That's why LaSorsa Chevrolet Buick is committed to offering you the LaSorsa Price Pledge, which consists of the following:  
At LaSorsa Auto Group, we pride ourselves on our integrity: If you decide to buy from LaSorsa Chevrolet Buick, you can trust us and the quality of the vehicles on offer.  
We stand 100% behind the prices we quote you: Our vehicle experts know what a vehicle is worth, and that's why we will always stand behind the prices we quote you.  
We will always give you our best price on day one: We're not interested in misleading you, forcing you to fight for an affordable vehicle, or forcing you into long negotiations for a vehicle that will meet your family's needs, so we will always give you our best price on day one.  
No deceptive ads with manipulated pricing: We will always be upfront about prices and provide you with honest information that will hopefully make purchasing a vehicle an easier endeavor for you.  
No games, no gimmicks: We are here to provide exceptional vehicles to our community, not to play any games or trick anyone.  
Just 25 years of quality service at work for you every day: LaSorsa is a family-owned dealership that has been serving the Bronx area for 25 years. We have a long-standing reputation for the quality of our vehicles, our large inventory, and our exceptional customer service, and we couldn't be happier to serve you as well.  
Here at LaSorsa Chevrolet Buick, our staff is here to help you.